BCI Deluxe Real Estate / MLS Pricing
Homes up to 2500 Sq ft
25 Photos: $199.00
Up to 25 fully edited interior and exterior photos with drone coverage.
50 Photos: $250.00
Up to 50 as above.



Larger homes up to 5000 sq ft
up to 30 fully edited interior and exterior photos including drone coverage $250.00
up to 100 images as above 299.00
Homes Greater than 5ooo sq ft
Up to 50 daylight interior and exterior photos with drone coverage. $300.00
Unlimited images as above $399.00
Deluxe Twilight Photography
$150.00 in addition to package choice above for 3-5 exterior photos. Subject to weather considerations. (sunsets not guaranteed)



Video Walk Thru Tours.
New for 2020, we are introducing video walk thru tours, where we film both aerials and video coverage of the interiors in a walk through style presentation edited down to a fun watchable, and shareable highlight film for the property. This is a very powerful sales tool and we look forward to some magnificent productions to come in 2020!
With photo package above: 249.00
Ala Carte Video: 349.00
Turnaround time is within 24 hours for most shoots, all images delivered via our exclusive gallery download.
Prices above are for properties located in Martin and St Lucie Counties. For coverage beyond that please give us a call. 772-336-5798
Have a small property or rental listing and need something on a tighter budget? Call us and ask about our Super Saver package. Costs a less and is still worlds better images than what you can do yourself. Trust us :-)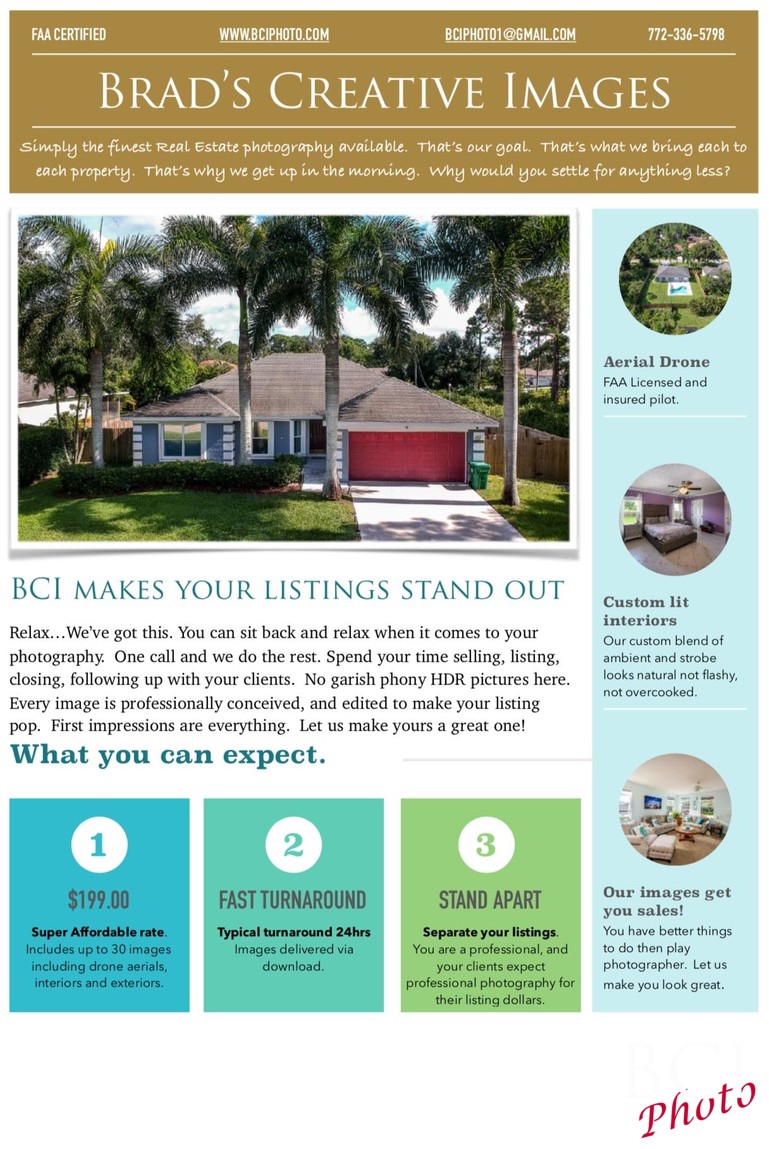 We elevate your listings above the rest of the MLS scrum, but using a custom blend of flash and ambient light for our interiors, which renders a much richer, more natural appearing image, with superior color fidelity. Those shooting ambient only, or worse yet...the dreaded HDR which is usually done, simply can not deliver real estate images showing the level of detail, and accurate colors and a normal looking appearance as our "Flambient" method.
by using Flambient, we are able to open up shadows with light, instead of with software which results in much cleaner image. Colors pop. But are not over cooked. The results are made to fashion our real estate images to appear exactly as the human eye "sees" them. No garish oversaturated images here.
Your clients expect YOU as a real estate professional to use a PHOTOGRAPHY professional to better illustrate their home to prospective buyers. Using a professional serves your clients better, and is yet another notch in your belt so to speak to encourage them to list their home with you.
Not to mention the fact that you are a professional realtor. As such your time is much better (more profitably) spent selling, networking, following up, closing, etc etc. than it is trying to shoot and edit a house to make it look exciting to the buyers. That...is our job.
BCI can also do aerial videos as either a stand alone product, or more commonly, and hybrid real estate video film, that walks your prospective buyers into the home, and thru it as if they were taking a tour themselves. What a perfect way to wet their appetite, and get them to call you and ask for that showing. That's our goal as well, to get you that call, set up that appointment, and ultimately to sell that listing!
BCI is a fully FAA Licensed and fully insured aerial photographic company. We take pride in showing off your listings for you. We take the time, and have 30 years of photographic experience working to get you not only aerial shots of a house. But GREAT aerial real estate imagery from every home. We show off your listing using our drone photography, but ensuring the best angles possible which renders a real estate aerial that needs no explanation. The picture shows off your real estate in a way that needs no caption. (sure we caption them too lol) But you get the point. The ole adage, a picture is worth a thousand words is never more accurate than when discussing aerial real estate photography. Real Estate Drone photography is something that can be done well, or not so well. Spend your time selling....let us do the aerial real estate imaging for you. You wont be sorry.
Our typical Drone shoot of your real estate will be in combination with our interior and real estate photography session. Your fully edited real estate set will be uploaded and ready for you to download or share in about 24 hours, and often less than that.
How will you remember your day?
Relax...we got this. Really, we do!
Brads Creative Images Photography
698 sw Pt St Lucie Blvd, Pt St Lucie Florida 34953
Call or text us at 772-336-5798.
How will you remember your day?
Relax...we got this. Really, we do!
Brads Creative Images Photography
698 sw Pt St Lucie Blvd, Pt St Lucie Florida 34953
Call or text us at 772-336-5798.
---